Founded by creative technologist Tim Kindberg (matter II media) and artist Lily Green (No Bindings), Grapevine is designed for short form, experimental or multimedia content. Grapevine connects beautiful print to moving audio using the global networks of messaging apps—notably WhatsApp & Telegram. Authors tag their stories, poems or other audio to artwork such as postcards, book covers or murals, which users then unlock.
To unlock the audio from Grapevine-enabled artwork, just take a picture and send it to the number on the postcard or poster using your messaging app. Grapevine uses Computer Vision to recognise it and send you back the audio, image or text that belongs with it.
Lookout for grapevine posters in a Cameroonian city or cab near you.
Street Smart Stories- English
Credits
Art: Dante Besong; Audio: Anjie C Nkweti ("The Shoe Mender"), Sidney Bendie ("Frank"), Tita Hans ("Moussa"); Text: Anjie C Nkweti ("Moussa"), Sidney Bendie ("Frank"), Tita Hans ("The Shoe Mender"); Intro text: Edmund Nnane; Proof: Nnane Ntube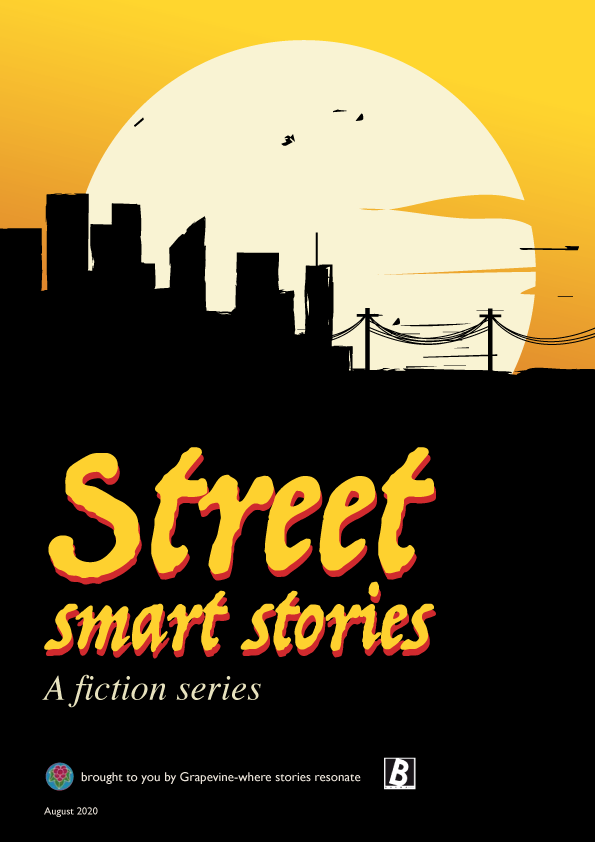 Arrête le Mariage des enfants- French
Credits
Cedric Chopbukuned (Graphiste), Annie Claire Ngomo, Edouard Bengono Essola, Géraldin Mpesse, Gils da Douanla, Raoul Djimeli, Davy Djomeni.